Every fashion week I try a new kind of notebook that should handle my tight schedule but they keep ending up messy, confusing, and therefore fail the seasonal test. I keep having to go back to the press lounge and google stuff I should know anyway but can't think of with a head full of the latest fashion impressions. Thoughtfully, quite often press is given some kind of notebook in the goodie bags handed out at the shows, but none of them is as smart as the Fashionary.
Fashionary was founded in 2009 by fashion and graphic designer Penter Yip who was bordered by the lack of tailor-made tools for fashion designers. He combined intensive fashion information with self-made figure templates to create his very first version of the new tool.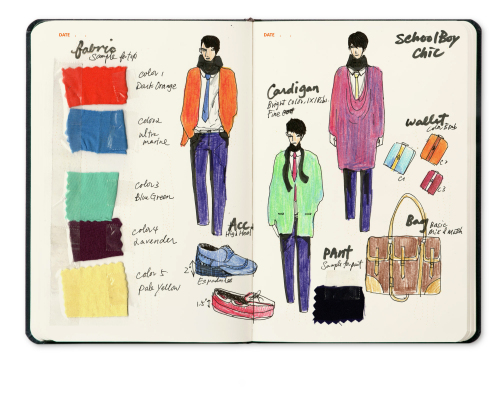 Soon after it was published, the sketch- and workbook captured the attention of us fashionistas. In 2010, the second version of Fashionary introduced not only new features but also a menswear edition.
From a personal project into a brand into my new fashion week accessory not to be left at some after party. Press lounge, say goodbye / Atlanta Fashion Week, bring it on!
Fashionary includes 130 blank pages that can be used as templates and 34 pages of fashion information such as:
– Measurement Tools
– 1300 Brands Index
– Books and Bookmarks
– Body Measurements
– Patterns & Flat Drawings
– Details Examples
– Specs Sheets
– Fabric Dictionary
– Color & Printing
– Laundry labels
– Seams & Stitches
– Typography and Boards
– Fashion Events
– Monthly Calendar
Examples and details:
Patterns & Flat Drawings including outerwear, dress, skirt, pants, swimwear and lingerie
Accessories including hats, bag, shoes
Details part including cuff, collar, button and pocket
Dictionary: Color & Printing / Laundry labels / Seams & Stitches
Presentation: Typography and Boards / Fashion Events / Monthly Calendar