A spectacular window display at Harrods portrays a crystal forest sparkling with millions of Swarovski Elements of all shapes and sizes, a unique winter wonderland with a backdrop of delicate crystal tipped branches indeed, showcasing the exclusive and limited edition A Crystal Christmas inspired by Swarovski products.
Throughout Harrods, each of the seven floors will have its own individual Crystal Christmas area, especially designed to highlight the exclusive collection of unique pieces. The range of products made with Swarovski Elements is hugely diverse, from clothing to decorations to bed linen, all produced by internationally acclaimed brands such as Azzaro, Frette, Ladurée, Barbour, Givenchy and Missoni, who have all utilised Swarovski Elements in their exclusive offers.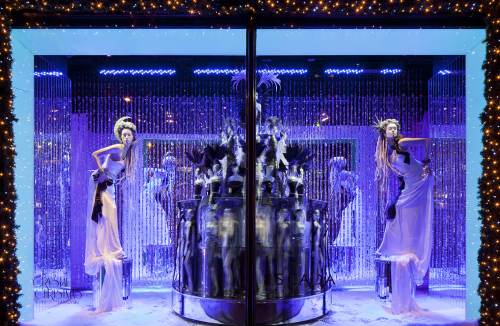 "We are delighted to be able to celebrate the Swarovski and Harrods A Crystal Christmas collaboration, a culmination of great creativity and vision that has resulted in an enchanting backdrop for the world famous Harrods windows this holiday season. It's a sparkling showcase for some of the most exquisite pieces, and for the first time ever, includes a Swarovski pop up store with exclusive Swarovski gifts for all the family, including the Atelier Swarovski collection by Rodrigo Otazu" says Nadja Swarovski, Member of the Executive Board, Swarovski Crystal Business.
A unique couture gown by Ralph & Russo, which features an exquisite hand embroidered 'Winter Floral' design with over 152,000 Swarovski Elements that cover the whole of the dress, takes centre stage in the Christmas windows. But there are, too, archive pieces from Swarovski Runway Rocks, a collection of catwalk jewels, including the headpiece, Bird's Nest Headdress, by Shaun Leane, Philip Treacy and Alexander McQueen, which featured in Alexander McQueen: Savage Beauty at the Metropolitan Museum of Art in New York earlier this year, and a crown, Goddess, by Farah Khan which was worn by Beyonce in the artwork for her latest album '4'.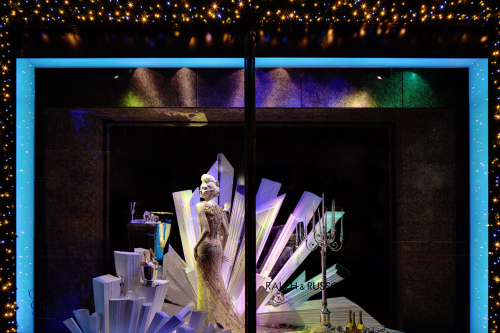 The windows themselves also showcase an exclusive Swarovski Jewellery Pop-Up Shop. The Autumn / Winter 11/12 Swarovski Collection will be available along several limited edition pieces created exclusively for Harrods alongside the Atelier Swarovski collection by Rodrigo Otazu. Designers Erdem and Marios Schwab have recreated the iconic Harrods green tote bag in their own individual style for Macmillan Cancer Support. These unique bags are displayed in Harrods on the designer floor throughout the Christmas period. You can bid for the bags from a starting price of £500, with the lucky highest bidder revealed on 24th December. Good luck!