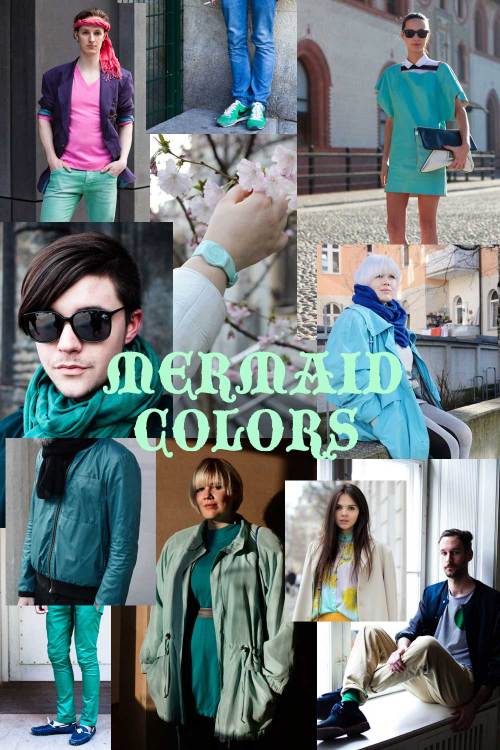 Do you know that mermaids turn to seafoam when they die? Maybe that's why I like these colors so much. All kinds of greenish – turquoise – blueish shades I like. Not because they are so flattering – no, they actually make your pale winter skin look even more 'mossy', as if you were a little seasick or – worse – had been floating around for a while…..nevertheless it's my favorite spring color. It looks so neat and immaculate and gives you a little bit of the antiseptical odeur of a surgeon – who wouldn't feel well dressed in it?
Being the edgiest among the now so popular pastel palette, seafoam green looks great with almost every other color. Take electric blue or pink or yellow or red, I can't think of a single color that wouldn't profit from a little sea-spray. Mix it with other pastels and it will take the sticky sweetness away. Or just play within the color range like Susanne in the picture (below and right of center) – even her hair has a blueish tone and – surprise – the turquoise watch is hers as well.
But all the practical aspects aside – there is also a very melancholic and romantic side to this color – it makes you dream of (no, not 'Emergency Room') carribean islands, solitary beaches, exotic landscapes and not least of a mermaid who gave her life for an unfulfilled love.
xxxJulia