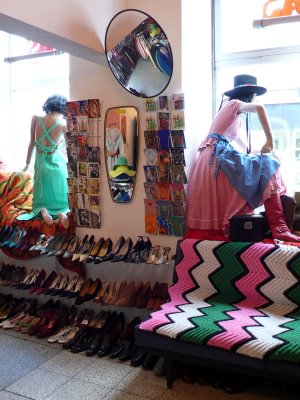 As an additional project to my street photography I would love to build up a list with the best fashion stores you can find out there. No matter if it is a fancy boutique selling young designers or a small second hand store, as long as it has the je ne sais quois. I am not looking for H&M, Zara or Gucci etc., but for the smaller and special ones, often hard to find. For this project I need your help. More details about it soon to come. And this is the first store: ALEXA'S in Munich.
Why should you go there? If you are looking for vintage clothing in Munich, Alexa's is where to go. She opened her store in 1985 in a small street just around the corner of Viktualienmarkt. And she is still there – a true institution! Any time I stop by I can feel that Alexa really loves what she is doing. Her shop is always good for a great find. No wonder I bought some of my favorite fashion items there.
What can you get there? Vintage clothing, shoes and accessories mostly from the 60ies and 70ies for both women and men. So chances are quite big that you can find some unique pieces hardly anyone else is wearing.
Price level (low/medium/high/luxury)? Medium. Due to the fact that the vintage items are generally in good condition the prices are absolutely ok.
Bestsellers? At the moment, Alexa sells quite a lot of vintage sunglasses. I love sunglasses! And one of the Selecta models I might have to get for myself.
Wow-item? Difficult choice this time. There is a very rare Ossie Clark dress on the one hand…
… and a 60ies brocade cocktail coat on the other.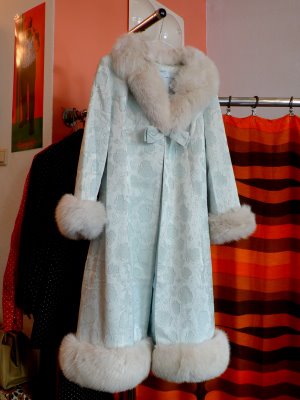 What do you think? I go for the cocktail coat.
Address: Alexa's, Utzschneiderstrasse 10, 80469 München
Opening Hours: Mon-Fri 1pm-7pm, Sat 11am-4pm
Website: www.alexas.de
Would a fashion store guide similar to this post make sense to you? I'm curious what you think about the whole idea. Please let me know.