He is supposed to be Argentina's most promising fashion designer. Suzy Menkes and Scott Schuman both told him he should show his work in Paris. Of course, I took the chance to interview him at Mercedes-Benz Fashionweek in Stockholm…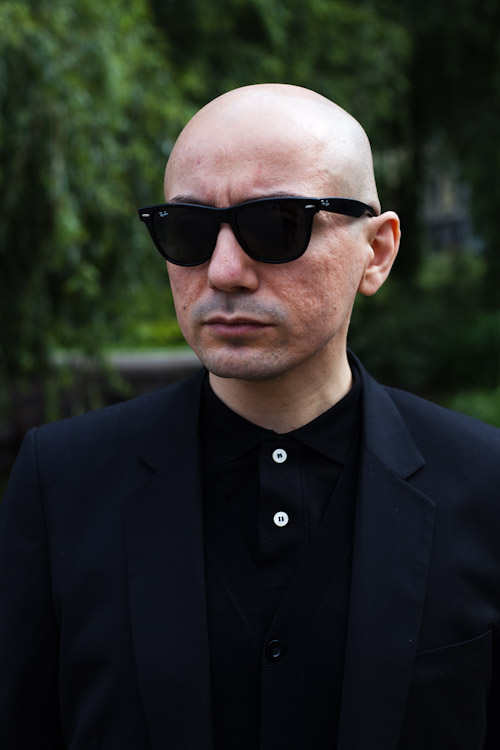 Mr. Ramírez, you are from Argentina. How come you showed your collection "L'École" here in Stockholm?
Because I won a contest called 'Fashion Edition Buenos Aires' which is supported by Mercedes-Benz. And the prize was to show in Stockholm. Actually, it was already for the second time I won that price. The first time, I showed in Berlin.
Congratulations!
Thank you.
Let's talk about your collection: there was a certain strictness, it was very formal, geometric on the one hand, but yet playful on the other. What was the inspiration?
It's a kind of dream about going back to school. It is the contrast between two different silhouettes: one of the mature woman, the governess, very strict and waisted, showing the body; and the other silhouette is the innocent girl with the clothes loose and seperate from the body, showing lightness. That was the beginning of the collection.
How was your relationship to school? Were you a good student?
I guess, yes. But the thing is that I went to a Catholic school. So in my style the Catholic theme is always very present. I guess, it is because of the black and the fact of not showing. It is a kind of mysterious thing, a kind of sexuality contained. Using it feels kind of natural to me.
Are you practising Catholicism yourself?
No, it is more about the look and the idea. I was practicing Catholicism when I was young, but not today.
Because the show somehow also reminded me of a church service…
Yes, church ceremonies are so theatrical. The Spanish word for church service is 'misa', like 'mis-en-scène'. So it is a great representation, every Sunday the people who believe are part of this act. It is really like theater. I feel a fascination for these rituals.
You only used black and white, some grey, basically a non-color collection. Is it always like that?
Yes. When I started, I decided to become a fashion designer who only makes black clothes. But in my second collection, I put some white in it. The thing for me is to focus the attention on the shapes, on the lines, the silhouettes and the body and not to have any distraction by colors or prints. My idea is more about shadows. As my approach to design is through the drawing. I started to draw very early when I was a child. So for me, made fashion is still kind of a drawing.
I saw some red sketches on your blog…
That was a special project that some label asked me for. So last season, I made this kind of mini-collection of the red riding hood.
So it was an exception to work with color?
Yes, but in other words: I can use color in my designs, but I try to stay monochromatic. Just to keep the focus. It's like kind of a sculpture: it's all white or it's all red or it's all black. You can still see the shape and the silhouette.
How about cinema? I thought of Marlene Dietrich films when I saw your show.
Cinema is a true inspiration for me. I try to bring back the concept of the elegance. My ideal is elegance. In Europe, I can see people being elegant, the Italian people, maybe the French people. The people in Buenos Aires are not looking the way I like. So I decided to make black, elegant, simple clothes for them.

Let's talk a little about you as a person. Order or chaos?
I try to control everything. I'm not happy with that, but it's the truth (laughs). I try to relax, but it's very hard for me.
What does your typical day look like?
I go to the gym at 7am for one hour. Then I go to work. And at the end of the day, maybe at 8 or 8.30pm, I come back home to my house and I stay there. I am a very quiet person.
What is your favorite meal?
Two years ago, I changed my diet and lost a lot of weight…
Like Karl Lagerfeld…
Yeah (laughing). Well, I don't know how many kilos he lost, but I lost 50 kilos.
50! Wow, that's amazing. So you were double the person you are now.
Yes, exactly. It was like losing the weight of one model, well, a model is a little less probably. So I changed my diet, now I like to eat beef or chicken. I love the simple food.
How about your home? Also very simple and clear?
Yes, but I have boyfriend who lives with me, and he is the opposite. He loves the color and the baroque things and the ornaments and the shiny things. So coming to my house a lot of people say 'I couldn't imagine you having a green sofa.' And I say 'No! You can see, the grey sofa is my sofa and the green sofa is from Gonzalo'. Gonzalo also works with me so he always says: 'When we are working, it's your world. When we are at home, it's my world!' So we share these two styles.
Like Yin & Yang.
Yeah, kind of. Sometimes, it's more like a storm though (laughing).
Thank you very much.
And of course, I couldn't post the interview without a street shot of the master. Here we go…
Pablo Ramírez, Fashion Designer
Blazer, shirt & trousers all by himself, cardigan from Muji, shoes from H&M in Stockholm and Ray Ban sunglasses.
Pablo Ramírez' website: www.pabloramirez.com.ar
His blog: www.pabloramirez.com.ar/blog